Fiction Fountain is joining with 3DWebWorldz.com to bring readers and writers our first virtual book expo in April!  The cosponsored event will be held in a perfect place for social distancing: a virtual 3D world!  This post has a sneak peek of the 3D work as well as what is planned for the event–so let's get started!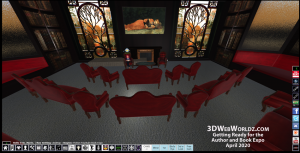 The Build
Holy smokes!  Evie did a beautiful speed build on our Expo Meeting Center, complete with a vendor room, guestbook, and reading room for the upcoming Author Meet & Greet scheduled during the event.  She created the building from scratch, using a single prim for the walls, bookcases, and bench seats.  The furniture in the reading room was created by:
https://www.cgtrader.com/nevermoregraphics
.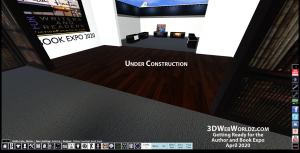 The Content
With the building and furniture put in place, the rest of the bits and pieces can come together.  Participating authors are busily working on audio files, custom table displays, and signage for their booths–all of which you'll be able to experience in 3D at the event. There will also be a demo for the new Active Creator Toolbox (ACTS3) software, an all-in-one solution for writers!
Live Book Readings & Author Q&A
The Expo is for both readers and writers.  You'll be able to meet with our participating fiction authors and preview their current books, new books on the market, and some exciting works that will be available in the near future.  Have you been curious about what goes on in the mind of an author? Ask them live during the Expo!
There's Even a Giveaway!
A signed book drawing will be held at the end of the event!  We'll have 2 ebooks and 2 physical books up for grabs.  You can earn entries by:
Sharing the Expo on Social Media
Resharing & Liking one of our authors' Social Media posts about the Expo
Attending the Expo
Bringing a Friend
The Book Expo will be held on April 4th 2020 at 6:30pm ET/3:30pm PT.
Get a head start and sign up for 3DWebWorldz.com today – registration is FREE.  Learn how to move around and even customize your avatar so you can arrive in style.
-Dani